Service rates
Our hourly rate is $139 AUD ex. GST. Minimum charge is one hour, afterwards we charge in half hour blocks.
Contract customers get special prices. Please call 0405 647 800 (Monday-Friday, 8.30am to 6pm) for details.
Additional Information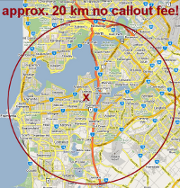 Travel fees apply for distances greater than 25km from our office, which is located in Ardross, (Perth) WA 6153; Click here to check distance (opens in new window or tab; you have to fill your address in field B).
Travel fees:
20 - 30km: $30 AUD ex GST;
30 - 35km: $40 AUD ex GST;
more than 35km: only with special arrangements
We are working using a precise schedule, but traffic or emergencies can cause delays. We are going to call you if we are more than 15 minutes late.
Please give us at least 3 hours notice if you establish an appointment and are unable to be at the specified place and time, otherwise a penalty fee of $30 ex GST may apply.